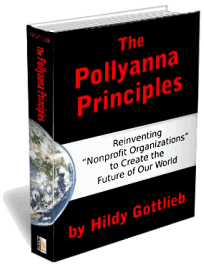 This week marks the 2nd anniversary of one of my favorite books written by one of my favorite people — The Pollyanna Principles by Hildy Gottlieb. Loyal readers of Spurspectives may have seen a few posts referencing this book. There are links to some of them below. This is one of my favorite books because it provides a brilliant alternative view of the nonprofit sector, describing it  as a community benefit sector and it also includes a thorough explanation of how to make it work for your organization. What more could you want? It has a great philosophy and the directions to make it happen.
The term, community benefit, is a wonderful alternative to nonprofit. Rather than describing what you aren't, it describes what you are. That's a big improvement. What's more, it isn't necessarily exclusive to nonprofit organizations. Although the entirety of the book and Hildy's work is dedicated to that sector, I've been successful introducing it's concepts in the financial services sector and firmly believe that it holds great promise for revitalizing the economy.
Think about it. What would your community look like if all businesses and organizations looked at themselves through the lens of providing community benefit? This is something that Umair Haque discusses in his book, The New Capitalist Manifesto: Building a Disruptively Better Business. Haque's macroeconomic thesis for a new capitalism is broken down in Gottlieb's earlier work in a simpler form, directed to the nonprofit sector and includes comprehensive instructions for practical application of the ideas. Put the two books together and I believe we can change the world. If you can afford only one and need to take action now, go for The Pollyanna Principles.
Beyond discovering how to describe yourself in terms of what you are as opposed to what you aren't, you'll learn about the interconnectedness of our thoughts, actions and inaction in making a community. You'll learn to reframe your work in a context that enables you to see the better world you desire and provides you with a path to get there. It will help you move from thought to action and from planning to implementation, all with fairness, governance and sustainability.
As we migrate from the industrial revolution into a new economic reality, this book offers a practical guide to create success. On it's 2nd anniversary, The Pollyanna Principles is more relevant than ever.
The book is available here: The Pollyanna Principles
Related Spurspectives posts:
Why Every Nonprofit Is Accountable For A Vision
To Do One Thing Really Well, Do You Fix Your Weakness?
What The Financial Sector Can Learn From Nonprofits About Social Media
Part 2 of a Unique Look at Social Media for Financial Services
Part 3 of How to Spur Investment Through Social Media
Related external posts:
"Be the change, build on strengths, hold ourselves accountable: a review of The Pollyanna Principles" by Christine Egger
"The Pollyanna Principles: Creating the Future We Want for Our Communities" by Romina Oliverio